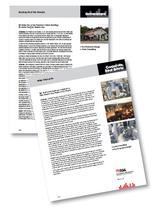 Complete listing of RJA Group Case Studies



PROBLEM:

Rolf Jensen & Associates (RJA), a worldwide leader in fire protection and security consulting, wanted to spread the word regarding its expertise in select market segments. Specifically, RJA needed professionally written stories about projects that would showcase its capabilities and professional services and could then be used for internal and external communications.




SOLUTION:

Charging the task to Interline Creative Group, RJA designated projects at buildings and sites around the world that best illustrate its skills. Interline Creative Group writers conducted phone interviews with RJA project managers responsible for these projects. Interline writers, who have extensive knowledge about the fire protection market and regularly interview industry professionals, sorted through the technical information to find the crux of each story. Writers then developed case histories that concisely summed up the scope of each project with an engaging approach, while translating industry jargon and technical specifications into layman's terms. In so doing, Interline aptly demonstrated the full array of RJA's capabilities. Interline graphic designers created a set template for these case histories to give them a professional, uniform look for print or Web publication.




RESULT:

Interline has produced more than 50 case histories and counting, ranging from ongoing renovation work on the U.S. Capitol to an innovative sprinkler configuration for a grocery store chain's distribution center. The completed case histories form a comprehensive portfolio of information regarding the breadth of its talents and success regarding a variety of structural challenges.