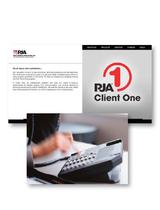 Complete listing of RJA Group Case Studies



PROBLEM:

Rolf Jensen & Associates (RJA) provides global clients with consulting, design and project management solutions involving fire protection, security and media technology. RJA needed a way to provide continuous improvement, innovation and monitoring of project results, which is essential to the success of the company. Technical excellence and fast response are the basis for RJA's ability to provide solutions to its clients.




SOLUTION:

Interline Creative Group's marketing staff and IT group developed RJA Client One, a communications program for obtaining client feedback regarding project results.Interline researchers survey managers of recently completed projects and gathers their opinions. These unbiased, third-party interviews conducted by phone and/or e-mail cover performance ratings on factors such as RJA's communications, technical expertise, timeliness of service delivery and the client's overall project satisfaction. Through numerical ratings and open-ended question response, Interline researchers are able to pull exceptionally candid, detailed and constructive project critique from its subjects. Respondents frequently provide expectations met or unmet and share challenging elements of the project.




RESULT:

Utilizing a systematic approach to gathering project feedback, Interline obtains a wealth of knowledge regarding each particular project. Client feedback that might not become known in any other manner is obtained through Client One. Information that can be used for research and development, communications improvements, or further client inquiries is thus made available to RJA on a timely basis and feeds into RJA's continuous improvement processes.