In "Cash Isn't King," which appeared in the November/December 2015 issue of INCENTIVE magazine, Leo Jakobson presented results of a "major new study" that said "four-fifths of program participants actually would prefer non-cash awards as part of a 'Total Award Experience.'" He says the key to the study are the words "Total Award Experience," and that prior research about cash versus non-cash "takes a very simplistic approach."
Really?
Sometimes simple is better, isn't it? Sometimes – and this happens to be one of them – the research just doesn't add up. By complicating it, or avoiding the obvious question about cash compared to other rewards, this "major new study" is suspicious.
Not only does our own research contradict it; the way these questions were asked about cash (or explained how they were asked within the piece) versus non-cash leaves a lot more unanswered questions.
For example, who were the participants in this study? Jakobson cites Melissa Van Dyke, the Incentive Research Foundation President, in the article as saying that "if you give participants a choice, [that]they will always choose cash" is a myth. Jakobson says that the study found as many as four-fifths of the participants preferred non-cash.
In our report, The Human Side of the Spiff, we pointed out that cash spiffs not only work: that doing what the author suggested — he'd like to see manufacturers do away with spiffs completely and find other ways to use marketing funds — is really a bad decision.
Some of us must be living on an alternative universe.
Our company has been doing spiff/incentive programs for over ten years, paying out hundreds of thousands of dollars for our clients. In fact, we just closed one for a major company and through innovative spiffing, the client boosted sales for his $10,000 product by 400% (from 100 to 560 units).
Some of the clients try a point program, full of travel and merchandise rewards. Others try debit cards (last year we landed a major client after their incentive company who used debit cards actually cost them sales!).
Inevitably, they always return to cash. Our own research (see Long Live the King below), which we repeat every couple of years, never varies: given a choice, people will almost always take the money.
So what prompted this article's conclusion? How were these questions asked? Is there anything to be gained from the research?
The article said that 452 people participated in the study, but didn't say who they were, where they came from, etc. There were 80 questions in the study according to the article. Do you know how long 80 questions take to answer? Where these interviews? Was the survey online? In person? Phone? Was there (excuse me) an incentive to take the survey?
According to the article, "The award-choice questions went into a great deal of detail, but did not provide a dollar amount for any award, instead instructing participants to assume all awards were of the same value." Huh?
We all have learned what happens when we "assume" anything, but a generalized statement like this without a cash equivalent is not only mis-leading:  it will skew the results.
Gift Cards As Incentives
The article uses a "gift card" as one of the choices, and then "defines" the card by the retailer who is issuing it. Is "the same value" card between Amazon, Gucci, Brooks Brothers? Well, I guess one can imagine they are the same! But, those words as the gift card sponsor are NOT the same (whoever thinks of Gucci and Amazon in the same thought?).
I encourage you to read the article because it is very confusing – and somewhat self-serving to an industry that thrives on non-cash awards. Part of what we should understand is that the magazine – INCENTIVE – would not exist if everything was just cash. We are NOT arguing that there isn't a time for non-cash. We are suggesting – respectfully – that there is something self-serving in a piece of research where rewards like travel and merchandise form the basis of the advertising in that publication and industry, and that 452 participants prefer non-cash to cash.
Because it just ain't so.
The Way the Award is Presented
The research, however, does have a salient point: that the way the award reaches the "winner" is as important as the reward itself. This makes sense, but it has always has made sense.
We know from the way we distribute our cash awards that presentation is everything!  After all, when a person receives an award, but doesn't know what it's for, what's the purpose?
Richard Low, the VP of Special Markets for Citizen Watch Company, was also cited in the article, saying, "Some people will always prefer cash, but an overwhelming majority prefers merchandise, gift cards, and travel over cash." We have research from people we spiff that this is simply not the case.
I would offer (again respectfully), the exact opposite is true. Most people will prefer cash, and while many will like the merchandise, as the old saying goes, "Follow the money."
Cash is still king. Long live the king.
Long Live the King
MarketNet Division of Interline Creative Group, Inc. exhibited at a KBIS® show in Las Vegas in order to explore "the spiff." A "spiff" is a cash premium, prize, or additional incentive for pushing or increasing sales of a particular item or type of merchandise.
MarketNet conducted over 200 interviews with designers, showroom consultants, builders, architects, distributors and others. Each interview brought knowledge and insight.
Of the 200+ interviews conducted, Accountability Information Management, Inc., (AIM), a leading B2B research company, analyzed the results from these attendees. In addition, candid comments from many others were utilized in preparation of their report, The Use and Execution of Spiff Programs In the Kitchen and Bath Industry: A report based on interviews at the 2015 KBIS® Show (for a free copy, drop me an e-mail at jim@interlinegroup.com and reference this post).
MarketNet Associates manages spiff programs. Their experience was also taken in account when discussing spiffs in this industry. One of the questions was: Do you participate in any spiff/loyalty programs? The majority of people interviewed participate in spiffs (Table below) –except for builders. In fact, builders interviewed were continually surprised to hear about spiffs.
For example, the builders who said "No" to this

question offered the following comments on why they don't participate:
Don't have showroom
Not aware that builders have these programs
Subcontractors do that, not us.
In fact, people who do not participate say they are not aware of spiffs. "Not aware of any" is what more than one designer said, or "Never been approached." This underscores an important point: that merely creating a spiff does not automatically mean everyone knows about the spiff (and indirectly reinforces the INCENTIVE research study about the presentation of the spiff).
One of the major reasons spiffs fail is lack of promotion by the manufacturer doing the spiff. The MarketNet survey went further and probed which spiff programs attendees participated in. 36 companies were mentioned by those who utilized spiff programs during the interviews. There were 350 manufacturers at KBIS!
Another question was: What type of loyalty/spiff program do you prefer and why?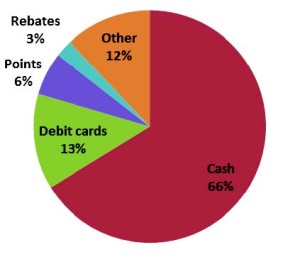 Without question, "cash is king" when it comes to spiffs. 66 percent of the people want cash (Chart ). Even within the other responses (i.e., debit cards), the alternative "cash" was often mentioned in the same breath as the debit card. In fact, when we segment each of the groups, the preference for cash in a spiff is undeniable.
So, why is it that some companies refuse to accept this or elect to use some other type of reward?
One company we dealt with stated, "Debit cards are standard in the industry and what our customers and sales team determine is needed. I can say that all the companies, and I have flyers on them all, use debit cards."
Today, that company is paying the price: lost sales. Not only is his market consolidating, making differentiation even more difficult; his competitors are switching tactics as that consolidation happens to other spiffs, like cash.
The problem of doing what everyone else does has been established in business as a sure way to extinction (see the BLUE OCEAN STRATEGY). A spiff program, like other business tactics, will follow similar rules. One argument, however, is that if everyone is using cash, then doesn't it make sense to use something else for differentiation?
Rules have exception, and in this case, cash is that exception. Our company has managed a variety of programs over the years, and they will tell you cash works better than any other spiff. This is because, perhaps, the nature of cash: the user can use it anyway he or she wants.
For example, MarketNet collects feedback on our programs, and would like to share some of the responses from people in these programs about how they utilize the cash. Note, too, that these comments underscore what the INCENTIVE research uncovered: that the delivery of the award is, many times, more important than the award itself! Enjoy!
The spiff was actually MORE than I expected, and your staff was AWESOME when I called to tell them. I didn't know that product was also be spiffed! Thank you.
What you are doing now is great. So much better than other companies I sell for – you have helped me to always offer MANUFACTURER first to my customers.
Received on or before Jan 14th. Cash money is the greatest incentive, thanks! 🙂
Thank you…This extra money helps me and my family so much!
I REALLY APPRECIATE HOW FAST THE CHECKS ARE SENT OUT…IT REALLY HELPS!
Thanks for the opportunity-it REALLY HELPS!
Thanks for sending the additional amount I didn't knowI deserved. I really appreciate the extra money!
Great! I appreciate this program! It helps pay college expenses!
My husband lost his job back in January so the extra cash comes in handy!, Thank you
You guys are awesome! I like the MANUFACTURER's products. I love my MANUFACTURER rep and their staff. Because of this program, I'm eager to show MANUFACTURER'S products. The Spiff makes it a little extra special. I appreciate your promptness & how easy it is to request.
For more conversation, make a comment! Or, drop me an e-mail and I'll send you the report — for free. Thanks for reading!