Sales and Marketing Insights
A picture they say is worth one thousand words.

Chart 1 based on TSA checkpoint travel numbers for 2020 and 2019, which is updated by 9 a.m. daily.
What you are looking at is the official TSA data on people who travel pre- and post-COVID-19, and what they did in 2019 as a basis of comparison. Someone said that knowledge is comparison – that in order to know what something is, you need to know something in relationship to that "something."
The same is true in any observation you make.
For example, you'd never know you're spinning by being on the earth at around 1,000 miles per hour unless you had a reference point. One of the things about COVID-19 is that we don't have anything to compare it to. Without comparison, it is impossible to know if what you are doing will work or not. It's all the "wild west" and therefore, we are all learning by experience.
So, when we ask what the effect of COVID-19 is on any industry, comparison would really help. What do you do when you don't have comparisons? You do your best by gathering facts!
Just the Facts Please
Here are some facts on the occupancy rates of hospitality establishments with references as well.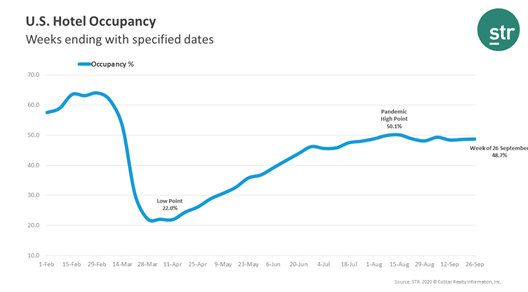 Chart 2 is from STR, who provides data benchmarking, analytics and marketplace insights for global hospitality sectors. STR was acquired in October 2019 as a division of CoStar Group, Inc. (NASDAQ: CSGP). The chart shows aggregated data for the Top 25 Markets.
According to STR, compared to 2019, the following was true:
Occupancy was negative 31.5% compared to last year
Average daily rate at US$96.38 was negative 29.6% compared to 2019
Revenue per available room (RevPAR) was US$46.96 -51.7% again, compared to 2019
Not good. But, the real question is, what is driving the negative? Because absorbing these kinds of statistics is one thing. What to do about them is another. I mean, how much negativity can a person handle?
In July, Worth, a global media platform connecting a community that embraces worth beyond wealth, presented an online session entitled How Vacationing Is Changing in a Pandemic-Ridden World. Worth has been online presenting this kind of information. I attended that session to learn exactly what was happening to this industry and help figure out some navigation ideas.[1]
Now granted: wealthy people are in a different category than non-wealthy people. However, one of the effects of COVID-19 is that it doesn't really discriminate. It treats everyone equally, as evidenced by our research for this series.
The session was described as "The world is reopening. That means the idea of taking that vacation you've been longing for is once again within reach." That was in July, but as we have seen, the world really wasn't reopening.
Consequently, this particular discussion is important from understanding expectations and reality – or more properly, perception and reality, which is the basis of all comparison.[2]
The panelists were impressive: Paul Tumpowsky, Founder and CEO of Skylark, and Kathleen Entwistle, Private Wealth Advisor at Morgan Stanley Private Wealth Management. It was moderated by Juliet Scott-Croxford, CEO of Worth.
Tumpowsky opened up with a stunning statement: "This is not the month to own a travel company." Then, he repeated the TSA statistics at the time, which mirrored our opening chart.
His company, Skylark, seeks to pair technology with expert advice to book exceptional luxury vacations at the "world's best hotels with unmatched pricing on flights, plus outstanding perks and 24/7 service." So he knows metrics. But he also knew, no one was traveling.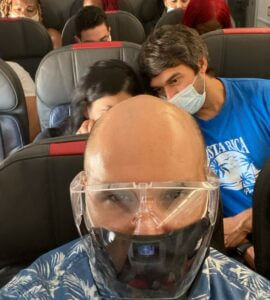 "Airlines are developing personalities in a commoditized industry," he told us. "All share the same science, but…we just saw news that Emiratis is going to pay for COVID treatment, if you get COVID when traveling with them. There are lots of layers and we never saw this coming."
In other words, the airline companies were seeking to differentiate themselves in the virus-infected world.
They still are. At this writing, American Airlines and United Airlines began laying off 32,000 workers, but said they would reverse course, if lawmakers reach a deal on a new government program to fund payroll costs. When you read this post, who knows what will be happening.
That is the essence of what we're talking about: things change so quickly, your strategy must include flexibility above all things. The ability to turn on a dime as the saying goes is and will be essential to the survival of any business, including those in travel and hospitality.
Tumpowsky pointed out, for example, that if flight attendants were getting the virus, we'd all know about it. They weren't. There is research on how really safe the airplane is. But if no one believes the research, what good is it?
"It is the travel process that puts you in the way of the virus…and the process is far safer than perceived," he said. "I'm not going to try to convince our clients, but sitting on a plane with other people who are responsible, is probably not that unsafe relative to other things that put us in higher risk."
Perception and Reality
What is safe? What is safer? What is less safe?
These are important questions to all of us, but the perception and reality of the word "safe" is important to moving forward – or backward. In our post "Navigating COVID-19 in Your Sales and Marketing in Security" we said: "being, feeling safe is one of the primary goals. But, what is safe? Is anyone really safe? Owners have to define that and what it means to employees and customers (i.e., see A Plea to Ban Masks from Business Meetings where I purchased a thermometer and took it to a meeting to help my client feel safe!)."
Take elevators. The trends are moving away from elevators according to Tumpowsky. The more people they have in elevators, the less bookings. When New York was a hot spot, people booked west.
He said that hotels were offering different incentives, like 4th extra night, getting into longer weeks. "We had a client at a resort, staying for some time and wanted additional computer equipment. He wasn't satisfied with what the desk told him, but by 9:04 that morning, after speaking to the GM, had a new desk in his room and he was set up to go for the next two weeks."
In other words, flexibility. This was the first time I heard another trend: empty hotel rooms being used for meetings. In our own business, we had a very spacious meeting room where pre-COVID-19 we held CEU meetings, planning meetings. It held 25 people comfortably. When the virus hit, we consolidated our space and turned it into offices for our employees. The Chamber of Commerce where I work and who have used that room before sent me an e-mail: "We need a venue. It would be about 12-15 people. I thought your meeting room would be large enough for us to plan and spread out, keeping social distancing as we do this. We would also want to bring in a little food and drink. I know it is a lot to ask, but would you be open to us using your meeting room?"
I replied: "I'm sorry to say we don't have the meeting room anymore. I consolidated my space and we moved people into that room. Otherwise, it would be yours! Sorry! But, let me see what I can do."
I contacted my landlord whom I've been renting from and he took care of the Chamber. Like all landlords, he has an abundance of space!
Lots of Noise Out There
According to Tumpowsky, every hotel wants to tell you what they are doing and that his company is well aware of what the brand is doing. But, that causes lots of noise. Some of his examples included:
One brand took three suites and turned them into private dining rooms
Another cut the wine list price in half
Another recognized if you needed a room for a longer stay, they would give it to you.
One hotel in upper state New York couldn't have their dining room open, so they sent a map that listed 14 different locations where to eat, the times and how they would set up the food for you.
All of these generated business. All were innovative. But, they were "one offs." While they demonstrated flexibility and the need for businesses to keep trying anything, the real answer was far from being uncovered.
AHLA (The American Hotel and Lodging Association) represents every segment of the hotel industry including major chains, independent hotels, management companies, REIT's, bed and breakfasts, industry partners and more. In their 10-page report, State of the Hotel Industry Analysis: COVID-19 Six Month Later, they write an interesting sentence: "Hotels are central to getting our economy back on track and supporting millions of jobs across the country."
That is true only if people travel. If people don't travel, hotels become obsolete. If people aren't allowed to go to restaurants, restaurants become obsolete. Moreover, if two-thirds of the travel is comprised of business travelers as was outlined in this online webinar[3] and no one is doing "face to face," how does that make hotels central to getting the economy going?
Business drives everything. If business stalls, everything stalls. It's pretty simple.[4]
So is the solution: keep doing business!
The AHLA report outlined five key issues facing the hotel industry today that apply to EVERY industry, not just hotels[5] (remember, one of the benefits of COVID-19 is that it doesn't discriminate by business type. What is the discriminator are the particular reactions by individuals states, the federal government, the health-governing bodies like CDC). For your consideration and review, here they are.
Four (4) out of 10 Hotel Employees Are Still Not Working. Unemployment in all industries is a serious issue – unless you are in an industry that is COVID-19 friendly. What does that mean? I just heard a comment, "Business is booming." When is the last time you heard that? It was from a manufacturer of plexiglass – a hot commodity in the age of COVID-19. But,what about the rest of us? Almost all industries were faced with furloughs or layoffs. Almost everyone I know in business applied for the PPP. Businesses – like people – did everything they could to survive.  The outcome is still uncertain. But then, it always was, only no one knew it. When an economy is booming, people don't look for hidden threats like a virus. If we had the gift of Cassandra[6], no one would believe us even if we did.
Almost 2/3 (65%) of Hotels Remain at or Below 50% Occupancy. This is not surprising if business travel is so slow. The thing about COVID-19 is that it has exposed the interconnections of businesses everywhere. Those interconnections were always there, but there has never been a situation (including the 2009 depression) that showed us those relationships. Further, the reaction of governments to the virus (including globally) sparks discussion, opinions and more. Those "judgments" have profound effects on things like occupancy in hotels. One of the things the hotelier has to do is redefine what a hotel is or should be, either temporarily or permanently. Speaking to a client this morning discussing the state of affairs, he said, "I think the manufacturer's rep is lost. Manufacturers should begin turning to e-commerce and other ways to sell their products." That's a dramatic statement. It's one that reflects on hotels, which manufacturer representatives tended to use during their face-to-face trips. Hotels are in a tough spot, for sure, but dwelling on the past or waiting for "normal" to kick in is going to obsolete them before they know it. Therefore, the hotel business – like all business – has to reinvent itself; not just using the word "reinvent" as a cliché.
Consumer Travel Remains at All-Time Low: Only 33% of Americans say they have traveled overnight for leisure or vacation since March. Only 38% say they are likely to do so by the end of the year. Yet, people are moving around in vehicles.[7] There is actually a redefinition of "travel" occurring as a result of COVID-19. Ketchum Travel, who operates as a boutique within the walls of Ketchum, a communications consultancy, did a survey on How COVID-19 Is Transforming Traveler Behavior, Loyalty and Values. This one page overview might be worth your time to look at, since it shows how and why the redefinition is taking place. For example, if 87% don't trust fellow travelers to follow safety guidelines, how will that impact getting to a hotel and staying there? What will overcome that lack of trust? That lack of trust is true of ALL industries and begs the question: how did this happen? Or, if 68% are less interested in travel for work (remember when that was an attractor?) and 25% don't trust hotels to provide a safe experience, how is the hotel industry to react in order to survive?[8]
Industry's Leading Employers – Urban Hotels – Face Collapse with Cripplingly Low Occupancy. The AHLA report noted that urban hotels are major employers due to their size. But, these properties are faring "significantly worse than the national average, with an occupancy rate of just 38%."[9]  The report proceeded to make this incredible statement: "Jobs at urban hotels are unlikely to return without either a dramatic increase in occupancy – which is unlikely – or additional Congressional action."[10] Here's the bad news: you can't depend on the government to help this time. While the PPP was terrific for companies, going back to the well for more is not the answer. Figuring out WHY people aren't traveling or using hotels is the answer. The answer is they are afraid. Business will survive by helping people feel safe…by helping them understand the measures being taken to secure their safety. Of course, you can't go out of business doing that. But, that's why ultimately, defining "safe" is the key to this COVID-19 puzzle. Part of the answer is understanding just how interconnected we all are in everything we do – in business or in our personal lives.
The final point the report made was that COVID-19's Impact on Hotel Industry was felt in Major Cities Across The Country. But, we already knew that the virus doesn't discriminate. There was nothing in its attack that would lead us to believe one city would be affected differently than another. The difference was the REACTION of those cities – and the reactions they are still having to combat the virus.
Waldo Knows
Ralph Waldo Emerson, the great American essayist, wrote Self Reliance in 1841 and kicked off his 10,141-word essay with a Latin quotation (who reads Latin these days except for Google): "Ne te quæsiveris extra." Plug that into Google and you get: Do not look for yourself outside.
Self Reliance is a marvelous essay. I encourage you to read it, especially if you are facing survival against COVID-19. While we all need help in overcoming difficulties, there's something to be said about what Emerson has written in light of COVID-19. For your consideration, here are just three quotes from this deep writing for you to explore in running your businesses:
It is easy to see that a greater self-reliance must work a revolution in all the offices and relations of men; in their religion; in their education; in their pursuits; their modes of living; their association; in their property; in their speculative views
Society is a wave. The wave moves onward, but the water of which it is composed does not. The same particle does not rise from the valley to the ridge. Its unity is only phenomenal. The persons who make up a nation today, next year die, and their experience with them.
A political victory, a rise of rents, the recovery of your sick, or the return of your absent friend, or some other favorable event, raises your spirits, and you think good days are preparing for you. Do not believe it. Nothing can bring you peace but yourself. Nothing can bring you peace but the triumph of principles.
One of the panelists from the webinar noted: "My little blue book, the passport, is worthless today. I'm hopeful this will return to much more normal and people's confidence will come back."
The key to his statement is "people's confidence" – something you, I or he have no control over. However, it is your own confidence that will be infectious. It is your own ability to navigate COVID-19 that will inspire people to do the same. As a panelists also noted: "Find the silver lining and find the gaps."
Amen.
_______________________________________________________________________
[1] In a Plea to Ban Masks from Business Meetings, I argued "Let's hope we can somehow overcome this mask-thing, this fear, maybe even invent a see-through mask." Little did I know it would turn out to be THE topic around COVID-19. The post got some good comments. But if knowledge is comparison, we have to also start to define what knowledge is. What are we talking about?
[2] In Just Connect the Dots I discussed a personal issue: I'm color-blind. Learning to see "real" red – whatever that is – was something that helped me understand the whole concept of comparison.
[3] Kathleen Entwistle, Private Wealth Advisor at Morgan Stanley Private Wealth Management.
[4] In Business Travel Won't Be Taking Off Soon Amid Coronavirus: Executives rethink multiday trips and plan for less travel; some prefer Zoom —'Everybody has the same size box' in Wall Street Journal, by Chip Cutter, June 15, 2020, it was noted: "A major decline in corporate travel spending would have vast implications for the nation's airlines, hotels and rental-car companies. Air carriers have predicted it could take years for business travel to recover to their pre-COVID-19 levels, though a vaccine could bolster confidence."
[5] State of the Hotel Industry Analysis: COVID-19 Six Months Later American Hotel & Lodging Association (AHLA).
[6] Cassandra was a daughter of Priam, the King of Troy. Apollo provided her with the gift of prophecy, but when Cassandra refused the god's romantic advances, he placed a curse ensuring that nobody would believe her warnings. This is the "curse" of Cassandra.
[7] Note, too, that the definition of "vacation" and "travel" are changing. In Navigating COVID-19 in your sales and marketing from the home, I observed: "One of the panelists said, 'Our concentric circles we typically discuss are gone. I was in Colorado recently and every other vehicle I saw in the hotel parking lot was from Texas. People are driving to their destinations, not flying.'"
[8] Brand Reckoning 2020: How Covid-19 is Transforming Traveler Behavior, Loyalty and Values. Ketchum.com
[9] State of the Hotel Industry Analysis: COVID-19 Six Months Later American Hotel & Lodging Association (AHLA).
[10] Ibid.