Sales and Marketing Insights
One of the premier sources of information on this industry is National Kitchen & Bath Association and John Burns Real Estate Consulting, whom together product the Kitchen & Bath Market Index (KBMI)[1]. This index examines current kitchen and bath industry demand, future expectations, and issues and challenges that industry professionals are facing in their businesses.
The Q2 2020 report is based on findings from 624 NKBA members across four primary industry segments: design, building and construction, retail sales and manufacturing.
The picture they painted was no more or less bleak than other industries. Here are some of the highlights from their report:
Q2 sales declined –more than 30% lower than last year's rating.
Future industry outlook turned optimistic.
The industry says the COVID-19 pandemic is still having a significant impact on the business environment.
Supply-side issues continue to negatively impact the industry's ability to consistently operate and grow.
Eighty-six percent of designers report making 'some level of progress' on existing projects (i.e., virtual meetings, etc.).
Building and construction companies saw sales declines during Q2, but see robust sales growth next quarter.
Retail and sales companies say showroom closures and supply chain management were significant.
Manufacturers also report lower sales in Q2 compared to prior year as supply and demand slowed due to market shutdowns across the US.
In my own participation in the IFDA (International Furnishings and Design Association) Illinois Chapter held a virtual "Gab Fest" on May 21, 2020 over ZOOM, we had a great discussion about what members were doing in this COVID-19 environment, and participation was terrific. In my blog for www.KB-Resource.com, one of the participants mentioned that business is actually "easier" because they don't have to visit physically. This led to a discussion about doing things virtually.
Like discussions I have participated in the past since the virus began, there are always two sides to this story. The majority, however, felt that the physical contact with the room to social distance – even though technology exists that facilities the virtual experience – is still irreplaceable. You can read the other discussion points on KB-Resource.com.[2]
I deepened my understanding of the situation with showrooms when I talked to Shannon Janeczek.
Shannon Janeczek, Marketing Manager, DreamMaker Bath & Kitchen, Ann Arbor, MI
I met Shannon Janeczek at the 2020 KBIS show, probably the last one that will be happening for some time to come. KBIS is like IBS; driving hard to stay relevant. But, trying to stay relevant by imposing the same trade show-concept on a world full of fear will simply not work.
Accountability Information Management, Inc. (AIM, www.a-i-m.com) is a B2B research company with over 30 years of experience studying the construction marketplace and advertising. Prior to COVID-19, they had, probably, the largest database of recorded independent research results from companies like Starch, Harvey, Readex and others.
They produce what they call SNAPSHOTS, which are single questions that they ask architects, engineers, facility managers, designers – the people that used to attend shows like KBIS and IBS. Just last month they produced one that asked: "Before the COVID-19 pandemic, what was your preferred method for manufacturers to introduce new products or building materials and what is it today?" The results paint a bleak picture for trade shows.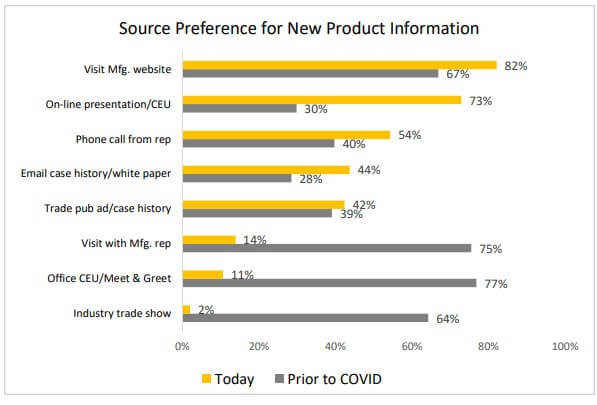 Who do you think will attend shows after looking at this chart? What's more, as other channels spring up from the COVID-19-created opportunities, people will find different ways to exchange information.[3]
But, I was fortunate to meet Janeczek and interview her then and now. She works as the marketing director for DreamMaker Bath & Kitchen, a franchised business (there are about 36 in the country pre-COVID-19). Listed among the top 300 franchises by Franchising.com, her operation is located in Ann Arbor, Michigan – a state where the government lockdown was particularly strong.
"When it hit, we asked ourselves 'What should we do? What could we do?'" Shannon explains. "The good news was that our owner had, for the past 18 months, been transitioning and putting everything into the cloud. That saved us two months of work and we were quickly able to have people working from home."
DreamMaker Bath & Kitchen is a remodeling business at its base. And with the lockdown, there was nothing moving, so Janeczek says they used the time to simply stay in touch with their clients. For example, in one project they were about to finish a kitchen with the countertop, but the countertop company had shut down. "No one knew what's going on," she says. "So our carpenters rigged up a temporary laminate countertop. The customer was very appreciative of that."
This innovation that Shannon talks about is one of the common threads of my interviews with people who want to make things happen. According to Janeczek, the Ann Arbor DreamMaker franchise was rated the number one franchise in terms of sales among all DreamMaker Bath & Kitchen operations, pre-COVID-19. Then the virus hit and their customer base went on pause.
"So we used the time to retool the marketing we were doing," she says. "We couldn't have anyone in the showroom. What should we do with people who WERE calling?"
They, like so many others, turned to Zoom, GoToMeeting and FaceTime. Their company started doing virtual appointments with people, which was a learning curve for sure. "We had to walk people through that. Some of our designers had to also learn on-the-fly," she points out.
Then the leads "dribbled down to nothing." Though she didn't have any week with zero leads incoming, people were just talking – not committing to remodeling. "And that was OK," she said. The company was financially stable. The owner determined that nothing would close them.
"So we just kept moving forward," she points out. "We made phone calls to get pricing and more phone calls. Our supply chain was limping… moving, but limping. We were scrounging for anyone who could give us accurate pricing."
Shannon says her company rarely has change orders because they work closely with customers. They can boast of a 1% fluctuation in prices normally, "But during the first part of the pandemic, we had to guess a little more and that just wasn't comfortable."
Though the carpenters were furloughed for about six weeks, the salespeople were still selling during lockdown. At one point, a salesperson "tailgated" at the back of a client's  SUV in their driveway, where the deal was made.
"Our attitude was, 'Let's figure this out,'" she explains.
In April and May, there was no money incoming. The carpenters were called back in mid-May. Once the lockdown was lifted in June, the phone couldn't stop ringing. Leads are coming in hot and heavy now. Their showroom is open, but the door is locked, because they decided they would limit capacity to one client and one designer at a time. They follow strict safety guidelines and utilize a cleaning company on a regular basis.
"As the marketing person, I want to make sure our messaging is very COVID-friendly," Janeczek says.
What Virus?
Janeczek says they already do so much with dust protection that they didn't have to change much with the COVID-19 policy, in terms of for social distancing at clients' homes. They pride themselves in securing the area where work is performed, including plastic, tape plastic to the floor and wall, and they use flooring protection as well. Dust collection vacuum systems are vented outdoors and windows are open whenever possible as well.
"Communication with the clients is really the key," she emphasizes. "You want to communicate with your clients the way they want to communicate with you – calling, virtual meetings, texts, whatever. It's not about us, it's about them."
__________________________________________
[1] Kitchen & Bath Market Index, 2Q2020.
[2] Go to Blogs on KB-Resource.com http://www.kb-resource.com/blogs/ifdas-virtual-gab-fest-shop-talk/.
[3] According to MeetExpo, 3,916 fairs and exhibitions have been cancelled or postponed because of COVID-19. 522 of these were in America. The Chicago Tribune is reporting that Chicago is losing out on $1.4 billion in spending as trade shows keep canceling because of Coronavirus. The International Manufacturing Technology Show is the latest to be scrubbed. And that's just in Chicago.