Sales and Marketing Insights
Retailing has a big tent. There's food, clothing, appliances, fashion, you name it. So when you ask how to manage COVID-19 sales and marketing in retail, it's a loaded question: many retail outlets got locked down and out of business as customers vaporized in their homes before they could answer the question.
Accenture, who knows about such things, noted the "retail consumer" is changing behavior at "unprecedented speed." And before you say, "Duh," consider what else they said: "The COVID-19 global pandemic is having a profound impact on consumers' lives. As stay-at-home orders and country-wide lockdowns start to be eased, consumer behavior continues to be driven by new personal circumstances, such as changes in discretionary income and spare time, and reconsidered values and priorities."[1]
Consumer behavior, of course, is tied to retail success and failure. Katrin Zimmermann, the managing director of the Americas at TLGG Consulting noted in an interview with BoF (Business of Fashion): "Beyond shopping habits, even lifestyle changes will have profound effects on retail. Take, for instance, working from home becoming the norm. Formerly highly trafficked stores in commercial hubs are no longer viable without a steady flow of commuters. This means that instead of a flagship on Fifth Avenue in Manhattan or Avenue Montaigne in Paris, retailers could consider physical concepts in residential neighborhoods."[2]
Accenture noted consumers are experiencing changes to free time and disposable income, including:
33% being financially squeezed
9% having less free time
32% not feeling any change since the virus hit
26% having more disposable income since the virus hit
Consumer behavior has a direct impact on retail, but when retail closes, customers' behaviors change – instantly. Even when opening up happens, there is no guarantee consumers will run back to stores (they may creep, but they will not run). The shopping behavior has changed. "Retailers no longer need prodigious fleets of stores in order to reach their shoppers. The coronavirus pandemic made this clearer than ever."[3]
Accenture conclusions were based on the company's Consumer Research Report 2020 conducted from 5–11 May 2020, which includes 7,872 consumers in 18 markets around the globe.
The implications of the research on retailers is dramatic.
They suggest that the consumer retailers thought they knew is no longer the consumer that is there. Lack of confidence by the consumer is ubiquitous – and a big problem for retailers. To succeed, they suggest retailers will have to help consumers "feel more comfortable in stores, encouraging them to return…prioritizing investment in digital experiences and services and new social occasions IN THE HOME."[4] In fact, "Digital goes hand-in- hand with brick-and-mortar commerce. Navigating this evolution will be critical for any brand or retailer hoping to grow in 2020 and beyond."[5]
The IDC (International Data Corporation) provides market intelligence with more than 1,100 analysts worldwide. For $4500, you can purchase a report that tells you, "Retail technology investments will continue to reflect digital transformation efforts, as retailers reserve capital for technology investments by reducing spending on store openings and remodels."[6]
You may not need to do that. Since the conclusions of not only your own observations, but also the readily available information on the Internet will lead you to the same main conclusion: no one knows for sure what will happen.
For example, Deloitte has a two page report Understanding the Impact of COVID-19 Grocery and Food Retail. The key questions they propose for executives are true across the board, regardless of industry (i.e., how you safeguard associates, taking steps to minimize supply chain risks, etc.).
Or, there's a 44-page report – The Shape of Retail: consumers and the new normal – from Alvarex & Marsal, a leading global professional services firm that provides advisory, business performance improvement and turnaround management services. This report explores how the COVID-19 crisis is impacting consumer behaviors, measuring the attitudes of over 6,000 consumers across six European countries. What they found is similar to what other companies find: that people will not focus on essentials, will shift toward online interactions, and will readjust their expectations. All of this is "normal" in terms of reacting to the crisis, and not just true of retail. It is true of every industry and market.
Another Point of View
Nielsen Holdings plc (NYSE: NLSN) is a global measurement and data analytics company that provides a complete and trusted view of consumers and markets worldwide. The company has over 10,000 people aggregating their proprietary Nielsen data with other data sources to help clients around the world understand what's happening now, what's happening next, and how to best act on this knowledge.
Nielsen offered THE COVID-19 BEHAVIORAL RESET recently in a dataset. It offers insights as part of this discussion, which they called "Four Consumer Responses Identified Following Prolonged Coronavirus Impact."[7]
The four emerging patterns shown in the chart are what Nielsen calls "resets" and can help predict drivers of pandemic purchase decisions which, in turn, have an affect on retail. They provide a framework for ideas from which we can examine and develop what retailers should do in navigating the virus.
The four patterns shown in the chart are resets of 1) basket – what people buy, 2) homebody – where they consume what they buy, 3) rationale – why they buy, and 4) affordability – how much they will spend for what they buy.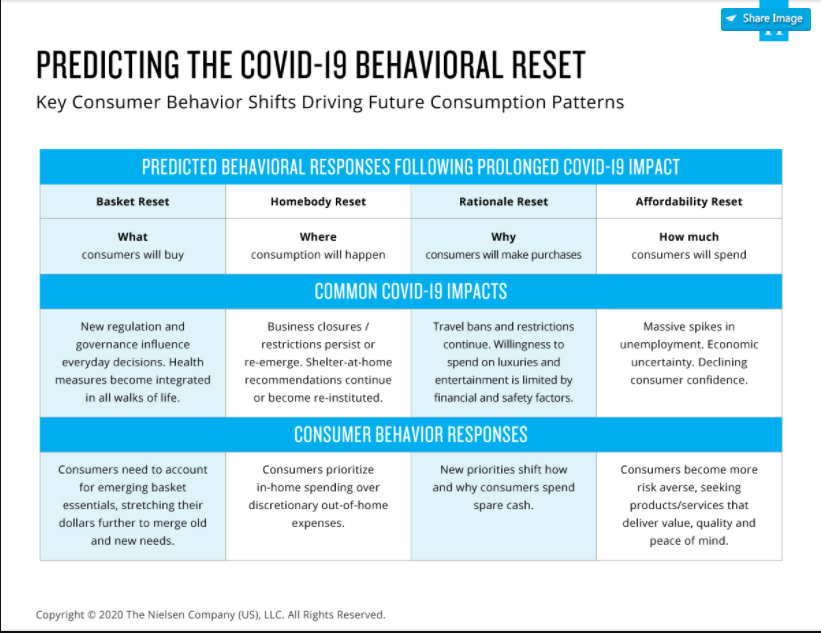 The chart was shareable from the report. Nielsen Intelligence Unit leader Scott McKenzie highlights why it's important to get ahead of these expected consumer responses. "Consumer behavior is spinning in fundamental ways right now," he said. "The unique macro conditions of a pandemic driving economic recession are forcing consumers to rethink how they shop and what they buy." Nielsen data shows that changes are already unfolding in households across the world.[8]
For any retailer who is trying to understand the consumer path to purchase, this framework gives us a head start to our navigation. Knowing the What, Where, Why, and How Much is what our own response must investigate.
One of the insights, for example, from Nielsen is in the "how much" affordability reset. What Nielsen found is important to all retailers. Consider the following:
Price becomes more of a purchase driver to consumers as product availability improves. Consumers have to make spending adjustments because of falling wages, economic uncertainty, etc. Certain brands, package formats and retailers, according to Nielsen, become at-risk of being abandoned by consumers.[9] So, a retailer trying to navigate COVID-19 must factor this into their consideration to prevent this, and as it turns out, some may be in an excellent position to prevent it. In other words, have products people want, when they want it.
Consumers seek luxuries within FMCG (Fast Moving Consumer Goods) to compensate for travel and entertainment they can no longer safely enjoy. With limited income, each purchase holds greater significance, FMCG is sought to fulfill a broader set of both essential and discretionary needs.[10] Any spike in sales is an example of this "greater significance." Retailers should study their purchase carefully. Making decisions on "what" to sell changes because of the circumstances that surround people who are purchasing.
In other words, opportunities emerge as consumers redefine why, where, and what consumers or your customers buy. When you see spikes, we believe this is what Nielsen is referring to in their affordability reset. Consumers are going for the value, quality, and peace of mind characteristics of certain products.[11]
HOW Should a Retailer React is the Puzzle to Solve.
BoF is an authoritative, analytical media organization that reviews the $2.5 trillion global fashion industry. Their mission is to build fashion's global membership community to open, inform and connect the industry, serving members in more than 125 countries. Part of that service has been to hold online presentations, webinars, and discussions, including reactions of professionals to COVID-19 and other topics.
On July 7, 2020, a meeting was held around the topic: What Will Beauty Retail Look Like Post COVID 19? This online forum's premise was that without the support of well-capitalized conglomerates, most independent beauty brands have a limited cash runway to work with "while they navigate changing consumer sentiments, marketing pivots and the closure of crucial distributors. What will the beauty industry look like post-pandemic?"[12] The panel of experts discussed perhaps the most important question not only for the beauty market, but for all retail markets: What people want is changing, how they shop is changing. What have you seen? This is what I heard when I attended the event.
Julee Wilson, Beauty Director, Cosmopolitan said that there is a heightened awareness of caution around everything we do, including beauty. "The Beauty industry has done well in this COVID-19 time, because it goes hand in hand with wellness, self care. And with the lockdowns, we have more time to pamper ourselves."
Wilson reflected what we have heard in some other industries we serve (i.e., showrooms). Despite lockdowns, businesses "stay busy." But, they are cautious. This is why demonstrating safety is one the key ingredients to keeping doors open and business on the right path.
Dawn Dobras, Chief Executive at Credo Beauty, said something interesting during the panel discussion: "Reopening stores is like starting green with Google. Some mornings it changes that morning." She pointed out that the "spear" of the beauty industry is still the same: "engage with customers." She said that people are putting makeup on zoom close to camera, getting involved; a lot more inventing in a different way is going on."
One of the other things Dobras pointed out was the increasing importance of assisted chat on the website. When everything shutdown, you are on your own. So, all their sales associates shifted to assisted chat. That way, the most knowledgeable people in her company were working chat. "We realized the best thing about our stores is our sales associates." She said the chats are "great" because their sales managers and associates love people.
We need customers talking to each other, we miss each other.
Kimberly Smith, Founder of Brown Beauty Co-Op, pointed out customers are looking to retailers for guidance. From day one, customers are still trying to come to the store. "You have to be the expert on how you will go forward," she explained. "Customers don't know the work you are doing behind the scenes and providing a safe environment, so you have to keep them informed." While her company is moving slow, customers still come to the store. "It depends what phase you are in, one, one point five, back to one. The point is to move."
The panel felt that customers are looking to them for guidance. "We even have virtual happy hours," one commented. "People crave a connection," said another. The social aspect of physical contact was emphasized as the "missing link."
As discussion ensued, one panelists said, "Most retailers don't partner with other retailers, but I think we are living in a time when clean beauty is being democratized. We should be thinking about partners, about distribution, about innovation. The world is alive."
One of the truths about COVID-19 isn't so much it's own nature, but the reactions to it by human beings. Humans have the ability not just to react, shape, change themselves, but what is around them. "The pandemic will expedite the transition toward a whole new world of physical retail where a cashier-less experience or a 90-day shopping pop-up will no longer be novel experiments, but part of the new normal."[13]  It will be amazing, whatever the outcome.
_____________________________________________________
[1] COVID-19: Consumers change how they shop, work and live, Accenture, Jill Standish, Senior Managing Director – Global Lead, Retail and Maureen Bossi, Consumer Research Lead, May 2020.
[2] Tapping into the Future of Physical Retail, by Cathaleen Chen, professional subscription, BoF businessoffashion.com, August 2020.
[3] Ibid.
[4] COVID-19: Consumers change how they shop, work and live, Accenture.
[5] Tapping into the Future of Physical Retail, by Cathaleen Chen, professional subscription, BoF businessoffashion.com, August 2020.
[6] COVID-19 Retail Industry Impact, by Leslie Hand, March 27, 2020.
[7] PREDICTING THE COVID-19 BEHAVIORAL RESET: THE NEWS CYCLE IS NO LONGER DRIVING CONSUMER RESPONSE TO COVID-19, August 6, 2020.
[8] Ibid.
[9] Ibid.
[10] Ibid.
[11] Nielsen cites an example on how the affordability reset is redefining the way luxury products move: "Many consumers have been enticed in stores by high-grade meats, seafood and other food luxuries that have historically been sold exclusively to restaurants. This is transforming the perception of affordability of many products and adjacent categories."
[12] What Will Beauty Retail Look Like Post COVID 19? BoF online forum July 7, 2020. Melissa Sansone, Vice-President, Seen Group; Dawn Dobras, Chief Executive, Credo Beauty; Kimberly Smith, Founder, Brown Beauty Co-Op; Julee Wilson, Beauty Director, Cosmopolitan in conversation with Lauren Sherman.
[13] Tapping into the Future of Physical Retail, by Cathaleen Chen, professional subscription, BoF businessoffashion.com, August 2020.